Dad aged 58
Well it's been the most toughest weeks of my life.
I don't know where to write this but my fishing blog is where I write my true thoughts..
My dad (big Ivan) passed away on Monday at 2.55 pm, age 65, the last 18 months saw him lose his leg through diabetes and then six months later was diagnosed with cancer..
My dad was a best mate and my memories of him in my younger life are so strong..
He played for Port Vale and football was his life to the day he died, he would take me everywhere with him from a early age and soon football became my life..
One freezing winter my dad asked me if I wanted to go fishing, all the football matches were cancelled and my mum had got us a 'beginners fishing' book from the library where she worked.
My dad had never fished in his life and I can see the picture in the book now, showing a bubble float with spaced lead shots and the worm hanging just nice in the bottom..all drawn with pencil and reprinted.. My dad and me sat at home wondering how we were going to go off the book..
We went to the local fishing shop and bought all the gear needed.. Wow we had a diawa 12ft glass rod that was so heavy I could not hold it with one hand.. A basic reel loaded with 15 lb line and a bubble float that was the 'new' plastic style!! Some shots and a bait tub!! Winner!!
We decided to go and fish a local pond called the mill pond.. A small pond that was overgrown with reeds all around the edges..
I was aged 7 and was buzzin my head off and my dad was I thought!! Lol
We arrived to one of the coldest days in winter, the lake was dead and no riffle of wind..It's strange as I remember it so well but that's because this day totally chAnged my life and gave me something some never feel....."addiction to fishing"
We sat on a old wicker basket that my grandad had sourced for us, it was slanted and always collapsed to one side..
My thoughts are quite blurry from that moment but I remember I had been sitting on my dads knees freezing cold but the book had told us that if the float goes under we should 'strike' wow this word sounded amazing to me at aged 7 and my eyes were totally focussed on the hand painted orange float..
The float had not moved for hours and my dad was getting pissed off lol..towards the end I have a picture in my mind that is clear as a bell..
We were both leaning over the wall looking at our float that was 12 inches from the bank!!! The book had not told us where to cast but we were fishing this close in!!
Well the float twitched.... And twitched again!!!! My dad shouted 'strike' and I said 'no' wait for it to go under!!!! My dad shouted strike again.. I still waited and then the float never moved again........
So there we were, my dad and me driving home arguing on weather I should of 'strike' or not!! The book had told us to wait for it to go under grrrr
Looking back I think my dad was right as the float was that big the fish would not be able to pull it under lol...
Even still to this day I often day dream of this moment and now my dad had passed away it is even stronger..
My dad hated fishing but he had gave me something that became my life from a early age, something that kept me off the streets pissing about.... The anticipation of watching the float go under got a hold of me big time and made me the fishing maniac I am today..Thanks Dad x
I was in Pickering tackle shop last week and in the queue a lad turned to me and said ' on the fly youth?' I turned and said yes holding some feathers... He said ' soon be time for watching that float go under, nothing like it youth' ... I knew exactly what he meant and just nodded my head and drifted back into my thoughts with my dad..
I was quite a keen footballer too, I played lads n dads where my dad would come and watch me, he used to egg me on to kick the best player and I would often run upto a player and kick him off the ball..I was the only player to ever get sent off in under 10s !! But I blame my dad for that..
One game I had been strolling around the pitch day dreaming with my hands on my hips!! My dad would go berserk with me for not trying and I remember walking off the pitch and him shouting in front of everyone.... Glen!!! ' JUST FISH' !! Lol
My dad took it very serious but I had fishing on my mind....
I went into all sorts of fishing and found my place on the rivers...
I did go and play football at a non league standard for years but always had fishing eating away at me..
Well my first ever fish caught was on holiday and was in the company of my dad so I was over the moon!! The mullet in Majorca don't fuck around twitching the float and I just shot under!! The electric bolts of running mullet was just a true buzz and another amazing memory of being with my dad!!
Dad with me in Majorca ltd
My dad used to play football until in his 50s and we finally got the dream to play in the same Sunday team together, the crack we had was untrue, my mates loved him and he would always start trouble on the football field mouthing off at the other team.. Now I know where it comes from in me!!
One time it caused a massive brawl with 22 men fighting on the football field, we would all get a kicking but my dad would stand there laughing about it after as we were nursing our black eyes!!
My dad was far to old to play in the later days and we would 'draft' big Ivan in if we were short..
One occasion I rang him early and begging him to come as we were short, he said only if we had a good side out..
We all sat getting ready in the changing room and my good friend tex had brought a supposedly cracking new player in.. The new lad turned around and asked if anyone has any spare boots? My dad asked him his boot size and he said 'medium' !!! My dads face was a absolute picture...class
The memories of my big Ivan are huge and he taught me in life to take no shit off the so called 'blaggers' in life, I have seen many over the years and fly fishing seems to attract them..
The ltdffa is full to the brim of 'anglers' and something jt and myself are proud of...
My memories of my dad are sweet, my sister Natalie sat by my side as we we watched him slip away earlier week.. I used to ask him until the end how he was feeling? He would just say 'never mind me how are you? '
And that says it all for us...
I have one message for you dad.. Yes I should of 'striked' when you said... But could never admit it..
We will miss you Dad
Love always
Natalie and Glen
Xxxxxxxxxxxxxx
Dad aged 20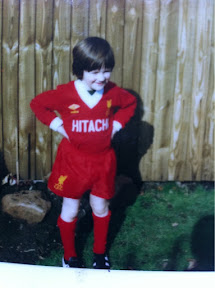 Glen aged 5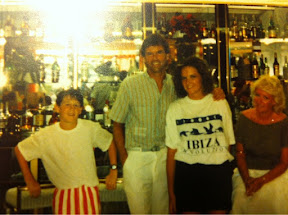 Glen dad Nat mum