Has my usual session on the Wye Sunday and guested my mucker Wess for his first session on the dry at this holy river, i met him at the Peacock at 9.00am and we sat down for my now regular coffee in the lounge..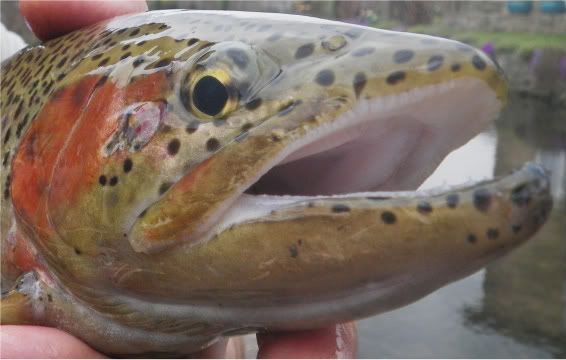 Just seeing Wess's face was a picture as i knew how he would be buzzing as i was on my first visit, even i am still the same every time i come to this place..
Jenny Mcenzie brought us the flys that are sold at the Peacock and we had a chat about how are day would go, there is nothing like the antispation of getting yourself ready for the days fishing as his place can make dreams come true. I told Wess of the mistakes that people make who come to this river which i have done myself, You pay your money and go mad fishing everywhere trying to cram it in in one day, by doing this you end up missing hatches all over the place and can go home with a smacked arse..my method is to choose a section and get to know it and wait for it to happen...because it always does..
I choose to work the beat above midway, somewhere i know quite well and this would give me chance to help Wess all i could.
We drove along the A6 following eachother with our arms hanging out the windows inpersonating being into a big fish!! Peolpe walking past must have thought we were mad!!
We soon tackled up next to the river with some pure piss take from our dress sence, Wess thinks he looks cool with his chav cap and his mchammer type waders!! when i look pure class on the street! with my barbour gear!!
I wanted to start by showing wess some nice runs and did not want to fish until he had taken a fish, i sometimes feel a bit under pressure when showing a section i fish incase it does not happen and i would get some severe stick if we drew a blank..
But it was not 5 mins and Wess hit a fish on a elk hair caddis, a small fingerling rainbow but a true wild one and Wess was buzzing!! He started to get the feel and started to take fish so i got my rod out we went wondering around and sighting fish..
We saw a big rainbow in the gin clear water and it was my turn for a go so i just flicked a JT olive into the path of this fish with not much confidence, but like in slow motion it slowly moving into it path and sipped the fly in, i waited then bang set the hook home and she was off downstream zingging my lamson, after a right good scrap wess netted my a nice 1lb 8z rainbow..
It was now Wess turn and he did exactly the same but this time a nice brown came to hand and was realeased..sight fishing is superb, wess was on a high he was shocked to see what was going on, i too could not beleive that these fish were 'on it' and a fly put past in the right manner would be taken..
We spotted another good rainbow and Wess flicked his sedge out only to see the rainbow smash it like i have never seen, a few scary minuites and i put the net under a wild cock rainbow that was perfect in every way tipping the scales to 2lb 2oz...
The first three hours gave us tremendous sport but there after we were punished and the river switched off in the afternoon, we got to the stage where we were flogging the river slightly and it was very hard going wth fish showing no interest at all, so we opted to chill out in the town and have some tea..
Nothing got going later on so wess got off buzzing his head off and i went the Peacock for my posh pt of coffee
Sweet
Glen