I recently had contact with Chris Pryor the secretary of the famous club Cressbrook and Litton on the Derbyshire Wye, we had a long chat and he kindly invited me to share a rod with him on this exclusive river..
Well you could imagine my excitement getting the chance to go and fish this river with a very experienced angler like Chris..
As i am a member of the Peacock fly fishers on the Wye it was going to be great to see what the river was like further upstream..Well this is the story....
I met Chris at 10.30am and had a quick chat where we decided to head higher up the river as this would be a different challenge to my normal fishing on the Wye, i followed Chris through the windy lanes and eventually came to the river which we drove along for a good few miles, i nearly ended up in a ditch as i was totally fixed on the river driving down and my heart picked up a beat as i started to see how good this river looked!
We pulled up and Chris give me the low down on methods used to keep in the club rules, 1 nymph could be used or 1 dry fly and wading allowed...
We tackled up and Chris asked me to try my 9ft 3# streamflex for the day whichi was glad as i have started to use this in most of my fishing...the weather was very cold with a blustery wind and felt more like a mornings fishing in January...
We opted to fish with a single nymph as it was still early with no hatches apparent..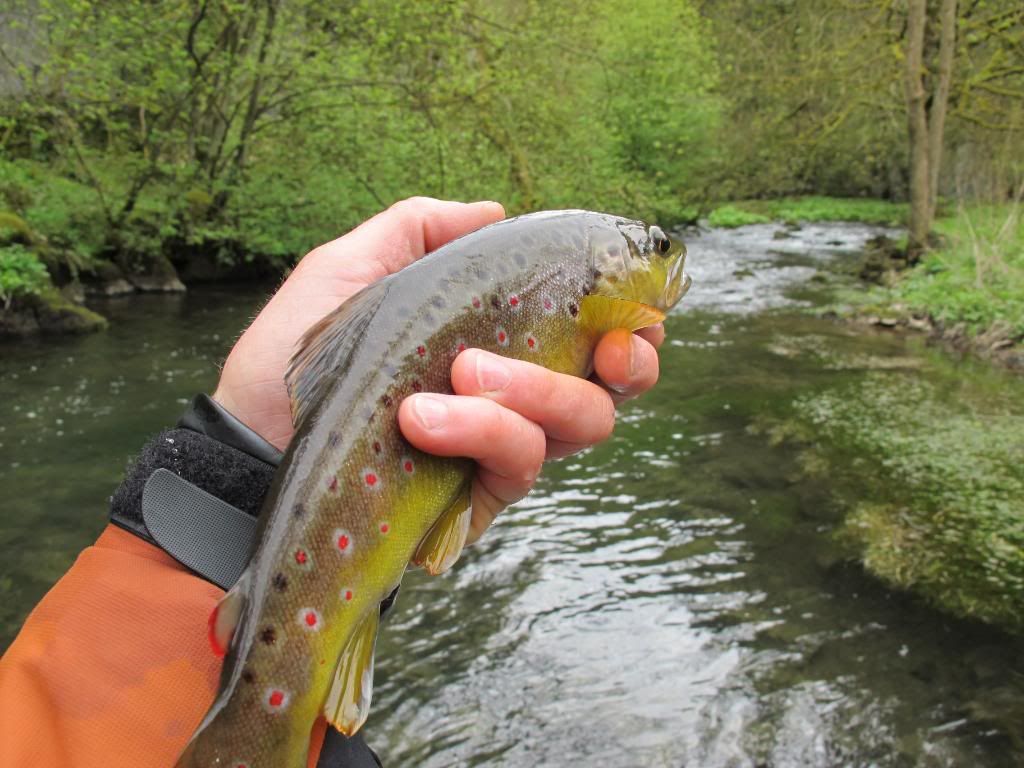 perfect brown
On entering this river you can see why its so good, the river bed is scoured clean with no silt, the water gin clear and a good flow rate, it felt strange to be wading as the Peacock have a no wading rule..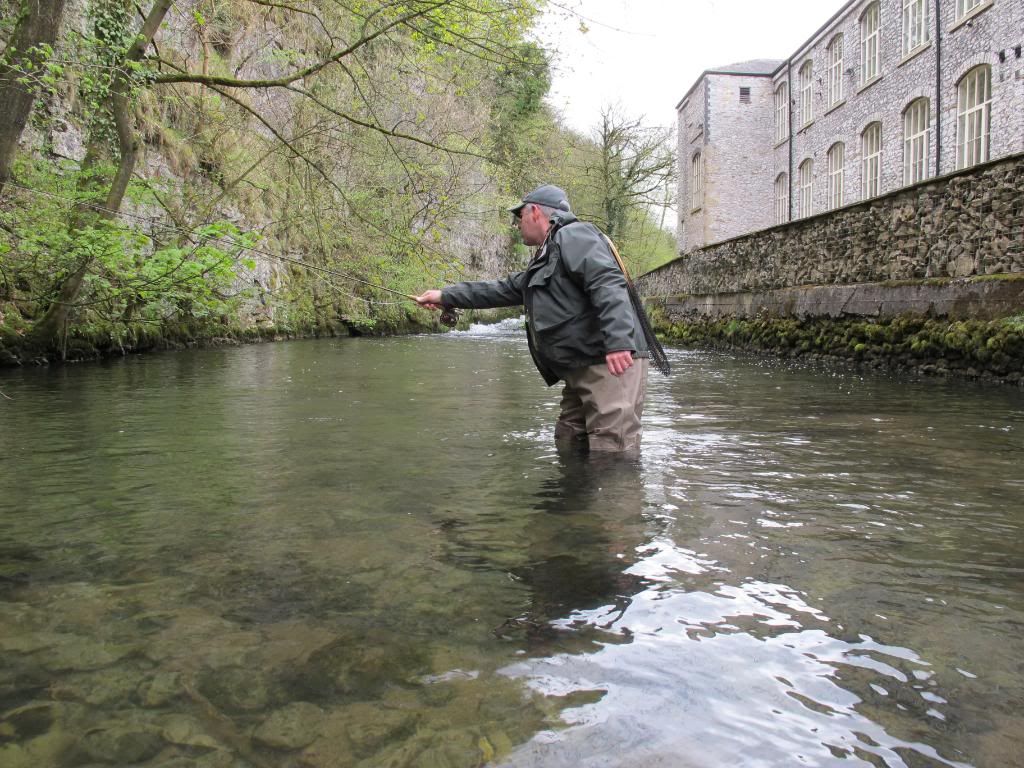 Chris working the single nymph
We fished the first few likely pools with Chris pointing out likely holding lyes, we had no action for half hour and i managed to bump of a small rainbow, we were moving further upstream and Chris spotted a rainbow of around a pound then both of us opened our eyes to see a huge wild brown in the 3lb mark, then a rainbow looking on the better side of 4lb!! this river always seems to shock me of the quality it holds, this far up i was expecting a 1lb fish to be good but there are huge fish all over the place...
Catching these big fish is a different game though, we tried put nymphs and drys past them but showed no interest at all, if i had more time on the river i would sit and wait out for these big guns to come on the feed as hooking one of these in this small stream would give you a right buzz...
Chris guided me upto the old mill which he told me was to hold a good head of fish, we soon started to take fish to the nymph which was nice as it was looking to be one of those days where the fish were just not on it..
A few small rainbows and brown came to hand and it was time to head off downstream for some dinner..
We drove further downstream, opened a few gates with lock and key and pulled onto the famous fishing hut at duffers pool! Chris opened up the hut while i looked onto the river and noticed a nice rise from what looked a good fish, well a rising fish to me is like seeing a woman bend over, i just cant wait to get on it!! Chris could tell i was buzzing and shouted over for me to have a crack at it, on came a old school Adams dun and first cast up came a 2lb brown and slowly sipped the fly in, this sort of rise really does it for me, when fishing a back end of a pool where it really slows offyou have to get the your presentation smack on, or expect nothing, when the fish just slowly gets in the lane of your fly and puts it mouth out of the water this can be heartstopping.. well i hit the hook hard home and the brown went nuts driving me all over the pool, Chris came over with his net buzzing for me and off pinged the hook!! gutted...
Well i have never been in the environment of a fishing hut and its never really been my thing but on entering this famous hut i soon realised that it was no usual shit hole, it had food, wine, bread, full cooking, heating, you name it, it had it all!.. Chris had put on a spread for me and he had really gone to town, chilli chicken, salad, olives, wine! fuck me i felt like a star for the day, i was not expecting this treatment, me and woody usually have a dodgy spar pork pie next to a coloured river, and i might get the ferro rocha out if the co op are doing 2 for 1!! The hut has a good feel to it, and there must be some good crack that goes on in there between the lads and you can see that lots of work goes into this club to make it special for all the members and guests..If you do ever fish with chris beware that the food he prepares is hotter than a vindaloo! even now i am still putting the bog roll in the fridge for the mornings ring sting!!
I was introduced to a few of other members who came into the hut who were very polite and i even had to tone my swearing slightly although i do find this hard..
Chris told me to get ready as we were going to some rarely fished water as he knows thats what i love, the weather had warmed up slightly and i was hoping for some dry fly action, i could have stayed in the hut longer and got on the wine, something i fear if Woody ever joins, as i can just picture him crawling out of the hut leathered lol....
We made our treak for a few miles upstream and this was something else, the views were amazing with rock faces either side in stunning scenery, i did not know these places existed but to fish hear also gave it the extra edge..We soon spotted a rise and Chris kindly said 'its your fish mate, its your day' What a sound bloke, Chris was letting me fish loads more than himself and just kept telling me to keep fishing..top bloke....
I covered the fish with a JT olive and whack i landed my first cress wild rainbow to the dry, a small fish but lovely..
Well from then on the large dark olives came off big time and the whole river erupted with rising fish, we were fishing in the middle of a stunning valley with fish walloping olives, i was fishing quite hard as not expecting the hatch to last long, but it went on for over three hours!!
We were catching fish after fish, we had chance to see which fly worked best and the JT olive came on top every time, the Adams did ok but JT's Olive took the piss slightly when a natural dun came drifting down with the JT and the JT was taken over the natural!!! Chris and myself saw this happen twice....
The Fishing hut!!
Well none of the fish we had were over a pound but we did not care, the sport was amazing, like nothing i have ever had on the dry, i would say a 50/50 split between Rainbows and Browns..
In total we shared one rod and had 46 fish to the dry!! we did not hammer pools too, we would take a few and move on..it was dry fly heaven..
We strolled back towards the fishing hut having a good crack between us, and we met up with river keeper (retired i think) Dave Persevel, well i had seen him on he Jt Mayfly dvd and new his face, he approached us and said, 'yes i have reported the dodgy van on the hut car park to the police with a poaching Glen Pointon!!' I gave him a bit of stick back and we had a good laugh on the walk back..
Chris found a fly stuck to his neck which we all said that we had never seen one, it was a huge olive, studying it we come up with March brown pictured below, something i have never seen and the river keeper had never seen, a beautiful fly nearly the size of a Mayfly..
While chatting with Chris and Dave i did notice that these lads are proper sound, i expected them to lord it slightly but this was the total opposite, they were very keen to see how i had gone on and wanted to know what i thought of the river, Dave P did say that this club is run for 'the anglers' and this shows through very well in there set up on the way they run this fine club, i did expect it to be a 'exclusive' which it is but in a true anglers style...
Fishing with Chris was a proper buzz, he is a grounded lad from Sheffield, and was telling me jokes all day and had me laughing my head off, he has been fishing for years and it shows in his approach, i picked up lots of tips from him and watched his methods like a halk as i do with any good angler..I would like to thank him for giving me the chance to fish this class river, i will return the favour on one of my waters but he might have to rough it slightly!!
I must say that anyone can fish this river Wye as the cressbrook and litton club do a day ticket which is around £40.00, the stretch they use for day ticket is top draw and will give you better fishing than any other river in the country, the fish are plenty, not from stocking but from the river being a gem, you have to see it to believe it, there are huge fish to be caught also, i heard of a 6lb wild rainbow being caught!!
Living the dream with Chris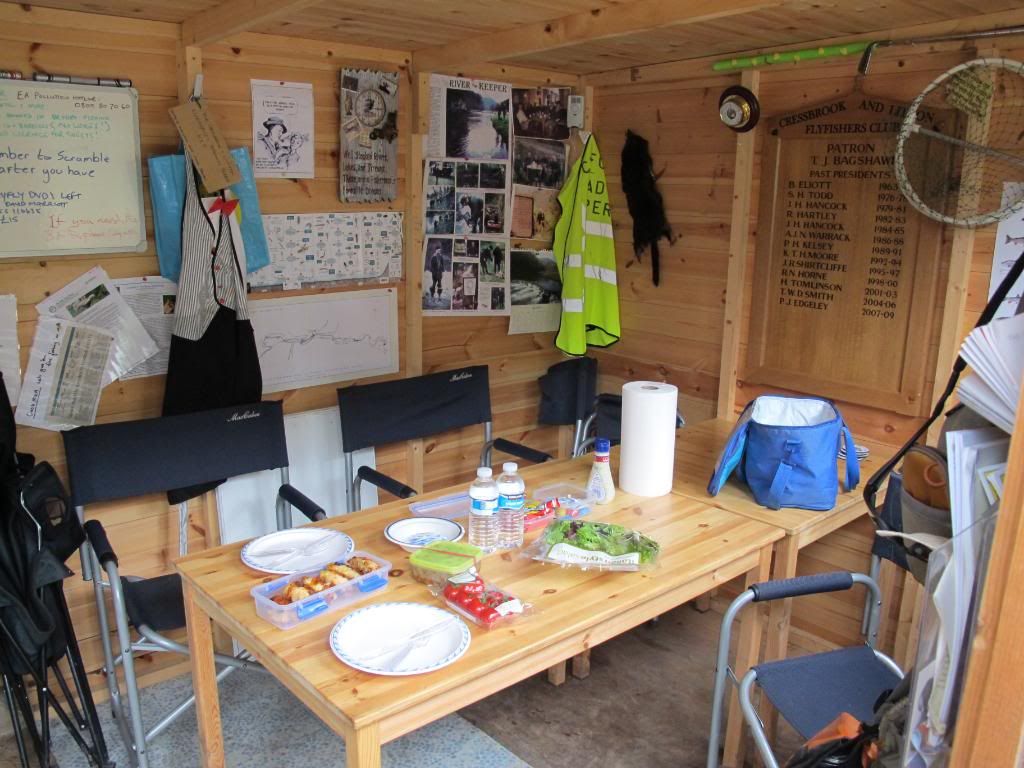 inside the holly hut
My advice to anyone fishing is to be patient and wait for the olives to hatch and some frantic sport will be had, this river is for the experienced or the newcomer, i would of been put off by fishing here years ago thinking i was not good enough but the keepers and members are very willing to help you out.. its also well worth going to see the fishing hut...
Ltd
Nice one Glen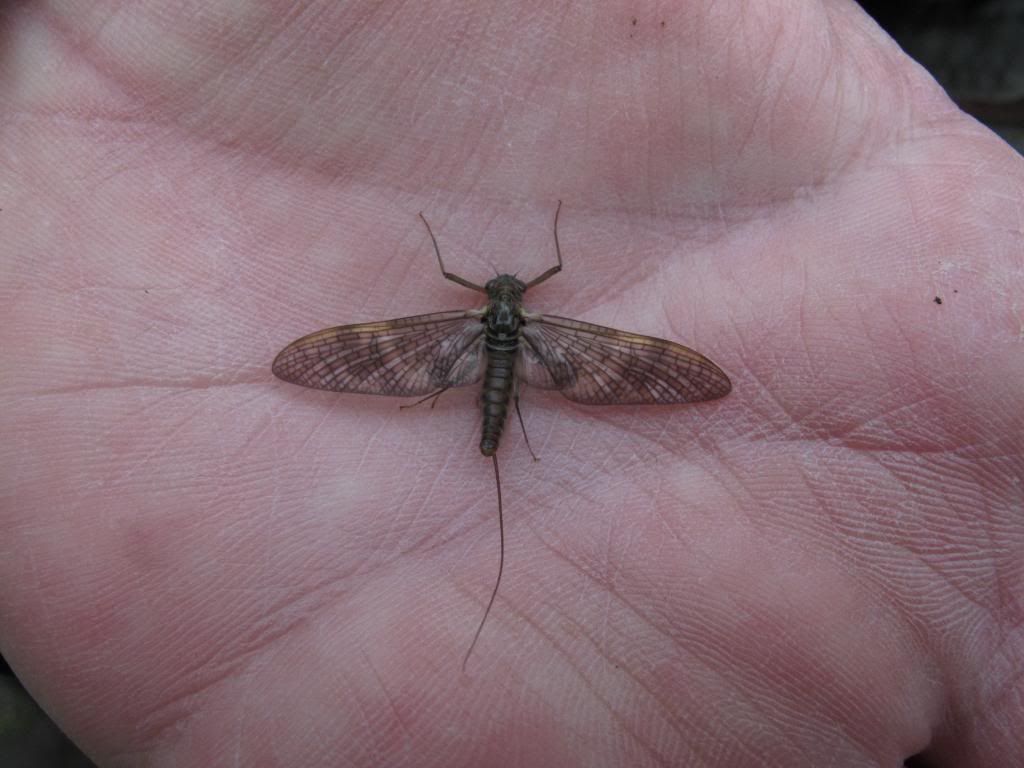 March Brown?